Featured Product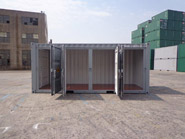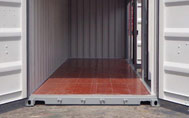 Four Side Door 20' Shipping Container
Introducing a new product to our range, this specialised storage unit comes with four side door access as well as the normal container end doors.
These are One Trip containers and are in top condition having done only one trip ex the factory.
These containers provide a unique advantage for self storage or ...read more »
Shipping Container Hire, Sales & Modifications
Shipping containers and specialised containers offer the perfect solution to most storage problems. The cost effectiveness of containers is their transportability and structural strength.  Constructed to meet the extreme demands of sea travel and relocation containers offer a great range of uses.
Strong, secure and weather resistant which are key requirements for both temporary and permanent onsite storage.
Citi-Box Containers provide a large range of new and used general purpose containers and special build containers.  From standard size 10', 20' and 40'containers through to our impressive full side open containers and Off Shore Containers.
To ensure that our containers have the highest quality, our new build containers are made according to ISO Container Standards.
We also offer a range of specialty storage containers and can customize and modify containers both new builds and second hand containers to suit your specific requirements.   These also include Dangerous Goods Store, 10' containers and four man individual side door storage units.
Our branches and logistics network means we can provide a complete supply chain solution and deliver directly to your site across New Zealand.
Citi-Box Containers are your first call for hire, sales and modifications of containers. The team at Citi-Box will provide you great products, excellent reliable service you can count on. In addition our professional staff will be able to personally help you with any questions you may have. 
We are also proud to be 100% New Zealand owned and operated.         
Coming to together is a start, working together is a success.